Groups
Music Heritage and The Crooked Road (3 NIGHTS/4 DAYS)
Make Abingdon your home base as you explore the music and culture of Appalachia with several stops on The Crooked Road: Virginia's Heritage Music Trail.
It's the home place of America's music. Experience first-hand how music is woven into the rich tapestry of tradition in Southwest Virginia. The variety is amazing - old-time string bands, a cappella gospel, blues, 300 year old ballads, bluegrass, and more.
DAY ONE - THURSDAY
Arrive in Abingdon and check in to one of our group-friendly hotels. Contact the Abingdon CVB for help in comparing the best rates. Head to Southwest Virginia Cultural Center and Marketplace for the "Open Jam." Enjoy a BBQ dinner while watching local old-time musicians in an informal jam session. Allow time to tour the artisan center and visit the interactive music displays.
DAY TWO - FRIDAY
Spend the morning at The Birthplace of Country Music Museum in Bristol TN/VA, just a few minutes down the road. See why Bristol is home to the "big bang" of country music and browse the award-winning interactive exhibits. After lunch in Bristol, head back to Abingdon for a tour of Whites Mill and Mercantile. Enjoy an RC Cola and Moonpie as you tour this 200-year-old working mill and listen to bluegrass musicians pickin' on the front porch. Gather for dinner at one of Abingdon's unique independent restaurants, for cuisine that is truly "Rooted in Appalachia." Contact the CVB for restaurant recommendations.
DAY THREE - SATURDAY
Let your group enjoy shopping and lunch on their own in Abingdon's historic downtown district. Abingdon's tree-lined brick sidewalks and two centuries of architecture make downtown a great place to dine, shop, or sightsee. The Abingdon CVB can provide free dining and shopping guides, and self-guided walking tours of downtown. Saturday evening, travel the Crooked Road to Hiltons, VA to visit the Carter Family Fold (just 45 minutes away). Every Saturday night the mountains come alive with the sound of authentic old-time and bluegrass music at the home place of the "First Family of Country Music." Sit back and enjoy the show, or join in the dancing!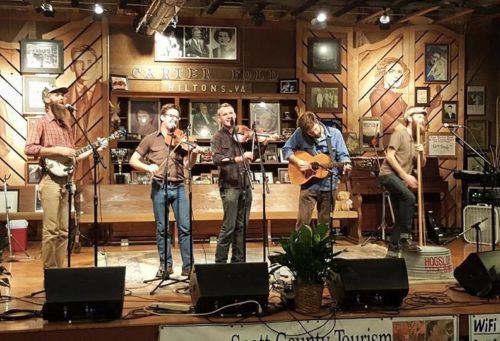 DAY FOUR - SUNDAY
Before you leave Abingdon, fill up at with a Sunday Brunch at one of our restaurants and visit the Southwest Virginia Cultural Center and Marketplace to pick up a souvenir at the gift shop.
EXTEND YOUR STAY!
Extend your trip with any of these additional activities.